June 2017 KFMA Newsletter (Web Version)
2016 KFMA numbers are in…Average NFI is up but struggles continue
Kevin Herbel- KFMA Administrator
As expected, Net Farm Income in 2016 was up from a historically low level in 2015. Record yields in many parts of the state helped to boost the state average, but 35% of farms still recorded a loss. As is the case every year, the average net farm income varied sharply from one region of the state to another. Southeast Kansas farms fared better than in other areas, with average NFI of $109,344. Northeast Kansas income averaged $48,197, Southwest at $39,615 and North-central at $34,205. Net income for farms in Northwest Kansas averaged $389 and South-central farms averaged a loss of $5,352. For summary reports at the whole-farm level by state, association, and county, visit www.agmanager.info/KFMA. Also available are enterprise reports by state-level and association.
Six KFMA economists participated in a roundtable discussion of the new reports on the May 24 edition of the "Agriculture Today" radio program, produced by K-State Research and Extension. That discussion is available online in three parts: Part 1 | Part 2 | Part 3 . I also reviewed the findings from the enterprise reports on the June 28 edition, which is recorded here: Part 1 | Part 2. All Agricultural Economic related radio show recordings are available at http://www.agmanager.info/news#ksrn-radio-interviews .
As we continue in this economic downturn in the agriculture sector, it continues to be important for every producer and farm adviser to know and understand the financial performance on each operation. Careful planning, good communication, and management decisions based on a quality set of records, will be essential for each operation as they chart the path for 2017 and the years ahead.
Kevin
---
Another Episode of "Survivor"
Doug Stucky - Southwest KFMA Economist
The Kansas farmer experienced the largest drop ever in Net Farm Income from 2014 to 2015. It was the worst year since 1985 and the $120,000 drop in income put a lot of farmers in "SURVIVOR" mode. The 2016 data on 1,024 farms across Kansas reveals another episode of producers trying to hang on financially. Average Net Farm Income of $43,161 did not cover family living for the second straight year - let alone pay for taxes and debt repayment. Family Living Expenses, which include Food, Clothing, Household, Health and Life Insurance, Gifts, etc. totaled $70,385 for 2016.
So how have Kansas farmers and ranchers reacted to this downturn? The data shows they have cut back wherever they can without hurting yield potential. Crop production costs (Seed, Fertilizer, Fuel, etc.) are down 8% from 2014. Yet the yields were up for every crop in 2016.
Producers have responded in a big way by reducing machinery expenses. The equipment and vehicles on a farm are usually 35-40% of total expenses, so this is a major category for saving cash outflow. The 2016 information shows 14% less Machinery expenses per acre since 2014.
Last year proves that record yields are not enough. Farmers also need a price for their production that is above the high expenses they have to pay. Since 2014, crop prices per bushel are 25 to 50% lower. That is why the average farm lost almost $80,000 in Gross Income.
For example, the breakeven price for wheat that yields 50 bushels to the acre is around $4.80. The current cash wheat price is in the $3.50 or lower range. Other Kansas crops are not much better at covering expenses. Soybeans were the exception in 2016, allowing for net profit if yield was average or above. Since most soybeans are grown in eastern Kansas, the Southeast and Northeast Farm Management Associations topped the income last year. The Southeast netted over $109,000 per farm and the Northeast income was $48,000.
Most farmers are looking at options to bring in more income. Some managers can sell unused equipment or use their machinery to do custom work. Doing extra fieldwork for another farmer will spread equipment and labor costs over more acres. Others have had to restructure short term debt and extend the payments over a longer period. This is not a good long term solution, but it can help with a tight cash flow situation.
To the individual farmer, averages should be used as a benchmark to see how their numbers stack up. There was a wide range of individual Net Farm Incomes in 2016. Some farms made over $200,000 and some lost over $100,000. Therefore, any recommendation on surviving this ag economy should be based on the individual farm's situation. There really is not a "one size fits all" recommendation. Each operation needs to look at the best options for their own success. What the neighbor does may not be the right thing for you!
I am optimistic that better economic times are ahead for our food and fiber producers. As it was in the 1980's Farm Crisis, those who SURVIVE will THRIVE. The Kansas Farm Management Association is here to help our members keep their farm businesses going until we get back to a THRIVING Ag Economy. I hope it comes soon!
---
A Potential Bright Spot in a Year of Struggle - Government Payments
Lindsay Bryant - Southwest KFMA Economist
While the farm economy continues to suffer, it might be hard to find much positivity in the world of agriculture. However, potential Price Loss Coverage (PLC) payments and Agricultural Risk Coverage (ARC) payments could offer just that for 2017. While the payout amounts are not currently set in stone, these programs are expected to pay in 2017 for the 2016 harvested crops, especially PLC for wheat, milo, and corn, which is projected to considerably higher than the 2016 payments made on the 2015 harvested crops.
PLC ($/FSA Yield): 2016 2017 % Increase
Milo $0.64 $1.25 95%
Wheat $0.61 $1.59 162%
Corn $0.09 $0.32 256%
The marketing year for wheat ends May 31st, 2017 so the PLC wheat price will not be officially published until June 29th, 2017. Therefore, this amount should not change much, if at all. The marketing year for milo, however, does not end until August 31st, 2017. The final marketing year average price for milo will not be published until September 28th, 2017, so we could still see some fluctuation in this number.
The payment amounts for ARC will also be finalized August 31st, 2017, with the end of the marketing year. These will be made sometime in October when FSA determines a county yield. Both PLC and ARC payments will be made on 85% of the base acres only and will include a sequestration cut. The sequestration amount has not been stated, but was 6% in 2016, and will probably be close to the same this year. Listed below are the maximum projected top five payment amounts by county for corn, milo and wheat statewide. For projections in your county, visit http://www.agmanager.info/ag-policy/arc-co-20162017-projected-payment-maps.
ARC ($/Base Acre)
Gray
Seward
Sherman (Irr. Only)
Stafford (Irr. Only)
Mcpherson (Irr. Only) & Doniphan
Corn
$90.27
$89.64
$87.72
$86.76
$83.40
ARC ($/Base Acre)
Jewell
Washington
Dickinson
McPherson
Barton
Milo
$49.89
$47.98
$39.25
$34.96
$34.32
ARC ($/Base Acre)
Nemaha & Dickinson
Chase & Anderson
Greenwood
Montgomery
McPherson
Wheat
$31.94
$31.49
$31.27
$29.48
$29.04
---
Preparing Your Financials for Disaster
Sandy Myers - Southwest KFMA Economist
A "Disaster" is defined as any occurrence, natural or man-made, that causes human suffering and cannot be alleviated without outside assistance. Disasters can be in a multitude of forms and Kansans experience a wide variety – tornado, ice storm, death of a loved one, wildfire, lightning, wind damage, drought, flooding, earthquake, etc. You have been told repeatedly what you need to have in case of disaster, such as a backpack with water, batteries, radio, first aid kit and blankets. You have an escape plan in case of fire and a safe shelter in case of tornado, right? But what about your finances? What have you done to prepare for a disaster there?
The first step is to understand how much cash you need access to in case of disaster striking. According to 2016 KFMA statewide data, the average family spends $70,385 per year just on household expenditures. That covers rent/mortgage, utilities, food, clothing, taxes, health insurance and medical costs, recreation, education, and charitable gifts and other daily expenditures. That average amount breaks down to $5,865 per month or $192.83 PER DAY. Remember, that number is just to keep living at the same standard you are now; it does not replace anything that is lost, damaged, broken, or destroyed. If you are a farmer and your livelihood was wiped out by wildfire, tornado, or hailstorm, could you afford to keep living at that same level? My advice is to see exactly what your own household spending level is at. Use the Family Living summary at http://www.agmanager.info/2016-state-family-living-expense for an example of categories and calculate your own figures. Financial experts suggest a minimum 3-6 months of living expense to be in savings in case of emergency.
Now that you know how much you need, the next step is to manage risk. You do this with insurance. There is insurance coverage for practically everything you can think of! It is not only a smart thing to insure your home/farm/property, but you also need to understand your insurance coverage. Ask your insurance agent to explain exactly what is covered and what is not. Have them go over your paperwork and explain what everything means in a way that YOU understand it. If your agent will not do that, you should look for a new agent.
One easily overlooked detail in homeowners insurance is Actual Cash Value (ACV) versus Replacement Cost (RC). ACV is what I call the "garage sale price". Imagine this: You have owned your home for 15 years. A windstorm breaks all the windows on your house. The insurance adjuster can only pay you the depreciated value of those windows ($600) because you have ACV coverage. If you had RC, then you would be receiving a check for $15,000 to replace the windows (because that is what it costs to replace them in present day). That difference can be a disaster on your finances in addition to the disaster that wrecked your home!
Know what perils are covered by your insurance (whether it is livestock, farm, home, auto). Perils are the causes of damage, such as fire, lightning, collision, flooding, theft, etc. Different policies have different coverages and you may need to get a rider (i.e. additional coverage) on your insurance instead of just the standard blanket coverage. One example revolves around the Starbucks wildfire, where the fire was moving too fast and cattle were unfortunately burned alive, or the ones that survived had to be put down. For livestock insurance, "Fire" is NOT covered under Natural Disaster or under Weather Related perils. Those ranchers would have needed an Accident rider to cover deaths caused by Fire and Shooting. Another instance with the wildfires is the fences that were destroyed. Fences need to be on Scheduled Property (where everything is specifically listed) to ensure they are covered. If you only have Blanket coverage (a general policy that "covers" all farm belongings), it can be a hard battle with your insurance company to pay for 40 miles of 5-wire fencing.
To go along with insurance coverage, you need an inventory of what you have. The easiest way to do this is go through your house, room by room, and take a picture of each room. Do the same with your farm equipment, automobiles, tools, etc. If there are serial numbers or other ID numbers, take photos of those also. That antique china set you received from your grandparents? It has a certificate ID on the back you can take a picture of. Store all these photos on a USB drive and keep it in a safe place. The most secure spot would be a safe deposit box at the bank. Update your inventory every five years or more often if you have a large purchase (like that new combine?).
You have money saved, insurance bought, inventory completed… "Now what?" you may ask. The last step in being prepared would be keeping proof of what you have. It is smartest to keep a copy of your Will or Trust, bank account numbers, credit card numbers, life insurance policies, and deeds as well as a list of contacts for each of those finance accounts, a list of monthly payment obligations, and your passwords for accounts (internet and real-life). If you have become a victim of disaster, it is common to live life in a fog for a bit. You are in shock and not sure what to do. This list can help you and your loved ones continue to move forward.
You think you are ready for disaster to hit now, right? Wrong. No one is ever truly "ready". However, you are now MORE prepared and should be able to withstand what Mother Nature throws at you (financially). After disaster strikes, do not be afraid to ask for help. Your insurance agent, extension agents, FSA office, your economist, your church and your family are all sources to utilize. If they cannot personally help, they can direct you to the right place. Call your bank, credit cards, mortgage companies and other financial institutions you use to let them know what happened. In the first place, they can be aware of any fraudulent activity on your accounts. In addition, they will be more willing to work with you for payment arrangements if you are up-front and proactive.
We cannot avoid disasters in life. But you can prepare for them. Kansans are tough stock and we always stand back up after being knocked down. The best advice I can give involves lyrics from the band, Kansas (coincidence?). "Carry on my Wayward Son, there'll be peace when you are done". So from me to you, when life gets hard, keep carrying on.
---
Economist Spotlight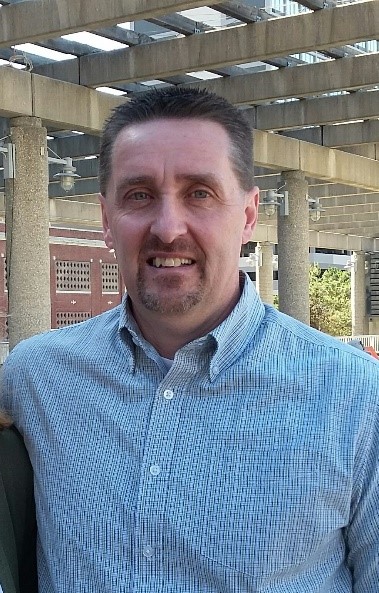 Scott Laird
Scott Laird is a KFMA Economist with the Southeast Association, with an office in Ottawa. He has been with KFMA for 6 years. Scott is originally from Knoxville, Iowa, but has spent a number of years in Kansas. He earned a Bachelor's degree from MidAmerica Nazarene University in Olathe, KS and a Master's in Agricultural Education from Iowa State University. Before joining KFMA, Scott taught Ag Business and Animal Science at MidAmerica Nazarene University and also managed their school farm. Scott and his wife, Tammy, have three grown married sons and are excited about being grandparents soon. In his free time, Scott enjoys running, reading, and watching sports. He likes being a KFMA economist because of his relationships with clients, keeping up on agriculture through their operations, and helping them make decisions on their farms.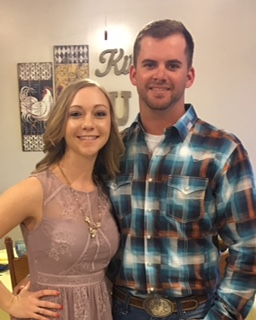 Lindsay Bryant
Lindsay Bryant is the new economist in the Southwest Kansas Farm Management Association, being on the job just over 9 months. Being a Certified Public Accountant however, Lindsay is well equipped for the position. She holds a Bachelor's and Master's degree from K-State, both in Accounting. Before starting with KFMA, Lindsay worked for a CPA firm for 2 ½ years as a tax preparer and auditor. Lindsay grew up in Cimarron and even though her parents didn't farm themselves, she has always had an interest and been involved in agriculture. Currently, Lindsay and her husband, Ryan, run a small farm and cattle operation, and Ryan also farms with his uncle. Lindsay's states the best thing about being a KFMA Economist is helping farmers, especially during this downturn in the farm economy.
---
June 2017 KFMA Research Highlights
The following research articles can be found on the KFMA webpage (www.AgManager.info/kfma/research-articles) or look under "KFMA Research". Each newsletter will feature new publications that are available.
KFMA Economists
If you missed your Association Summary meeting or would like a copy of the PowerPoint Presentation that was given, visit http://www.agmanager.info/kfma/research-articles Some associations have not had their summary meetings yet, but their PowerPoints will be posted as soon as they are available. Summary books are also available here: http://www.agmanager.info/kfma/whole-farm-analysis/kfma-association-summaries.
Allen Featherstone - K-State Agricultural Economics and Michael Langemeier - Purdue University
This research discusses trends in credit quality and the current distribution of credit quality ratings for farms participating in the Kansas Farm Management Association. Using financial ratios, the probability of default for each farm from 1973 to 2016 was computed and summarized. The results indicate that credit quality deteriorated for the second straight year from 2015 to 2016.
Candice Wilson, Mykel Taylor and Glynn Tonsor - K-State Agricultural Economics
The 2014 Farm Bill required Kansas producers to make a series of enrollment decisions that were both complicated and based on incomplete information. As agricultural production represents the largest sector of the Kansas economy, valued at over $64 million annually (43% of the total economy), the analysis of predicted and actual enrollment is crucial in giving insight into producers' decision‐making processes. The current downturn facing the agricultural sector coupled with political pressure to reduce federal expenditures only intensifies the need for an effective and economically sustainable safety net.
Art Barnaby - K-State Agricultural Economics
The Administration's proposed budget would cut $58.7 billion from crop insurance or about $6 billion a year over 10 years. Art Barnaby discussed the implications of proposed changes to crop insurance, including a $40,000 premium cost-share limit, an AGI of $500,000 or less to participate, and the elimination of the Harvest Price Option. His research shows that around 20% of KFMA farms would likely being impacted immediately by the $40,000 cap. Also, since nearly 100% of farmers that purchase revenue insurance currently use the Harvest Price Option, this policy change would be detrimental to the crop insurance program.
---
Upcoming Agricultural Economics Events
For more information about these and other events, visit http://www.agmanager.info/events/ or contact Rich Llewelyn at rvl@ksu.edu or 785.532.1504. Other events hosted by the Department of Agricultural Economics can be found at http://www.ageconomics.k-state.edu/events/index.html.
---
Kevin Herbel
Extension Agricultural Economist
KFMA Program Administrator
308 Waters Hall
1603 Old Claflin Place
Kansas State University
Manhattan, KS 66506-4026
kherbel@ksu.edu | 785-532-8706
www.agmanager.info/KFMA
Vision: The Kansas Farm Management Association (KFMA), through its affiliation with K-State Research and Extension, will be the valued and trusted provider of integrated data management systems to apply critical thinking and strategic business planning for farm and ranch decision makers; and will be the premier source of farm-level economic data in the world.
Kansas State University Agricultural Experiment Station and Cooperative Extension Service K-State Research and Extension is an equal opportunity provider and employer. Issued in furtherance of Cooperative Extension Work, Acts of May 8 and June 30, 1914, as amended. Kansas State University, County Extension Councils, Extension Districts, and United States Department of Agricultue Cooperating, John D. Floros, Director. September 2016. Robin Reid & Tom Reust.